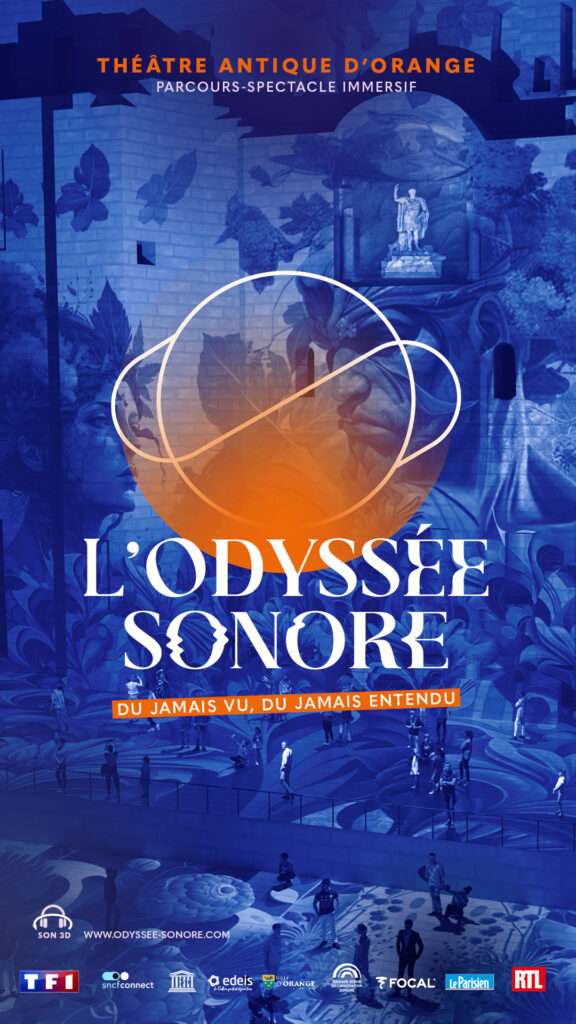 MAY 1 TO DECEMBER 23, 2023 - 73 EVENINGS
IMMERSION IN AN EXTRAORDINARY UNIVERSE
From May, the Théâtre Antique d'Orange will offer a new immersive show: the Sound Odyssey. Since its creation, this unusual monument has been considered a tool with extraordinary acoustics.
Like Odysseus in Homer's Odyssey, you will cross wonderful and fantastic landscapes, and meet deities and mythological characters.
THE MULTI-SENSORY EXPERIENCE
Through this new kind of show, discover a unique double experience: acoustic excellence thanks to high definition spatialized and geolocalized headphones and visual immersion with a monumental videomapping projected on the whole of the Ancient Theater, entirely generated by artificial intelligence. Thrills and chills guaranteed!
AN ACCESSIBLE SHOW FOR YOUNG AND OLD
The Theatre being above all a place of sharing and exchange, this show-course, a true contemporary mythological work, is accessible to all audiences and designed to be experienced with friends or family. Young and old will share unforgettable moments, while having fun recognizing the sounds that come from various registers, styles, and eras.
THE SOUND ODYSSEY IN A FEW WORDS
45 minutes of experience
The first projection mapping created by artificial intelligence
5000m² of discovery
High definition listening quality via binaural headphones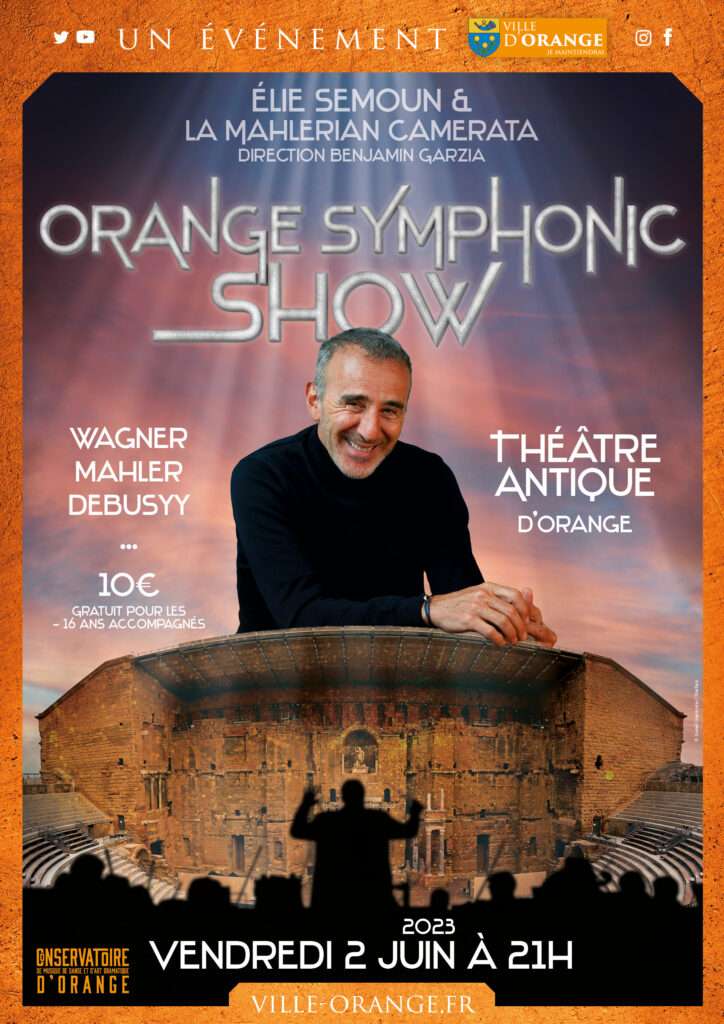 FRIDAY JUNE 2, 2023 - 9PM
SPECTACUL'ART SINGS FRANCE GALL
I am happy to participate in this evening which will be cultural, musical and surprising!
Combining humor and classical music was my dream and Orange did it! See you soon!
Élie Semoun

The Orange Symphonic Show aims to combine humor and the great repertoire of symphonic music. Taking place in the breathtaking setting of the Ancient Theatre, it will give the audience the unique opportunity to take part in a musical journey around mythology.
Guided by the narration of Élie Semoun and carried by a symphony orchestra and a choir of more than 200 artists and a ballet, the show will offer an anthology of iconic works. Stravinsky's Firebird, excerpts from Wagner's operas or Mahler's symphonies, Debussy's Prelude to the Afternoon of a Faun, will thus cross the path of Massenet's meditation on Thaïs or Mussorgsky's Night on Bald Mountain.
In this sublime screen dating from the first century, classical music will be more popular than ever and illuminated in a new light.
Under the baton of Benjamin Garzia, the Mahlerian Camerata orchestra - deployed here in large formation - will have the pleasure of welcoming on stage the students and teachers of the Conservatoire à Rayonnement Communal of Orange. Placed under the sign of the Greek and Nordic Gods, this evening of June 2 is therefore announced as a great popular gathering where artistic excellence, laughter and sharing will perhaps resonate up to Mount Olympus or Valhalla.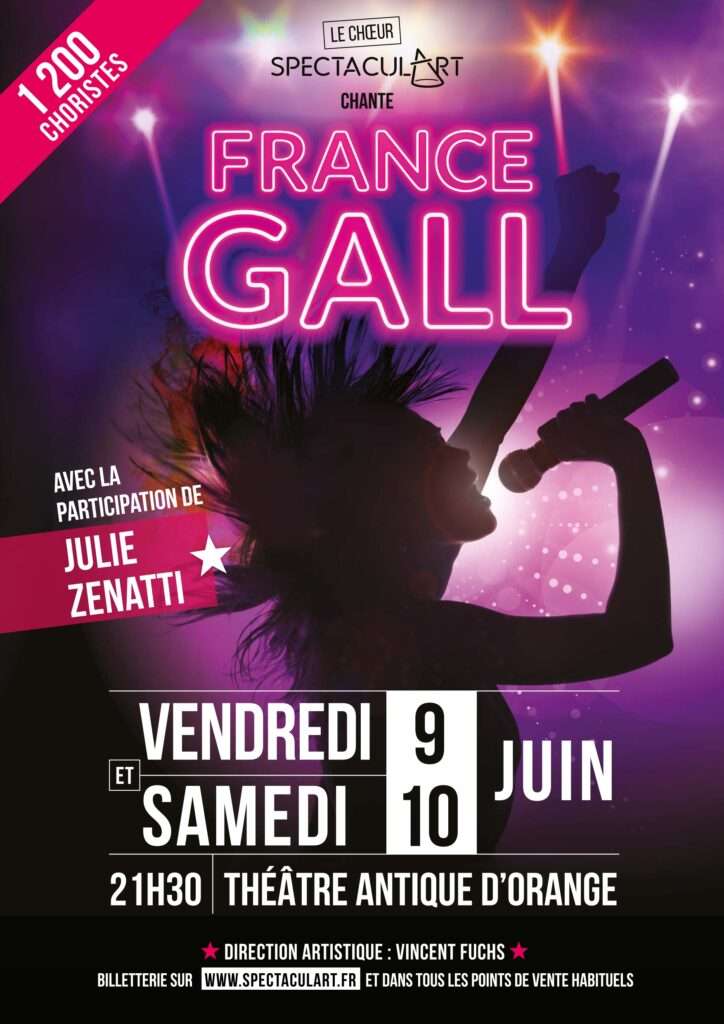 FRIDAY 9 & SATURDAY 10 JUNE 2023 - 9:30PM
SPECTACUL'ART SINGS FRANCE GALL
The Spectacul'Art Choir is back at the Théâtre Antique d'Orange with its new XXL show, the biggest choral event in France.
After the tributes to Balavoine, Goldman or Johnny, it is France Gall who will be honored in this unique show conceived and directed by Vincent FUCHS.
We all have memories of France Gall's songs! Artist who marked several generations, she is in the heart of all the French. During 2 hours, revisit his many hits: Ella she has, The declaration, Music, Resist, He played the piano standing ...
Muse of Claude François, Julien Clerc and of course Michel Berger, you will also discover forgotten musical nuggets during this concert.
1200 choristers from all over France, accompanied by the greatest French musicians, some of whom have played with France Gall. With the exceptional presence of Julie ZENATTI who will join the choristers on stage for a few songs.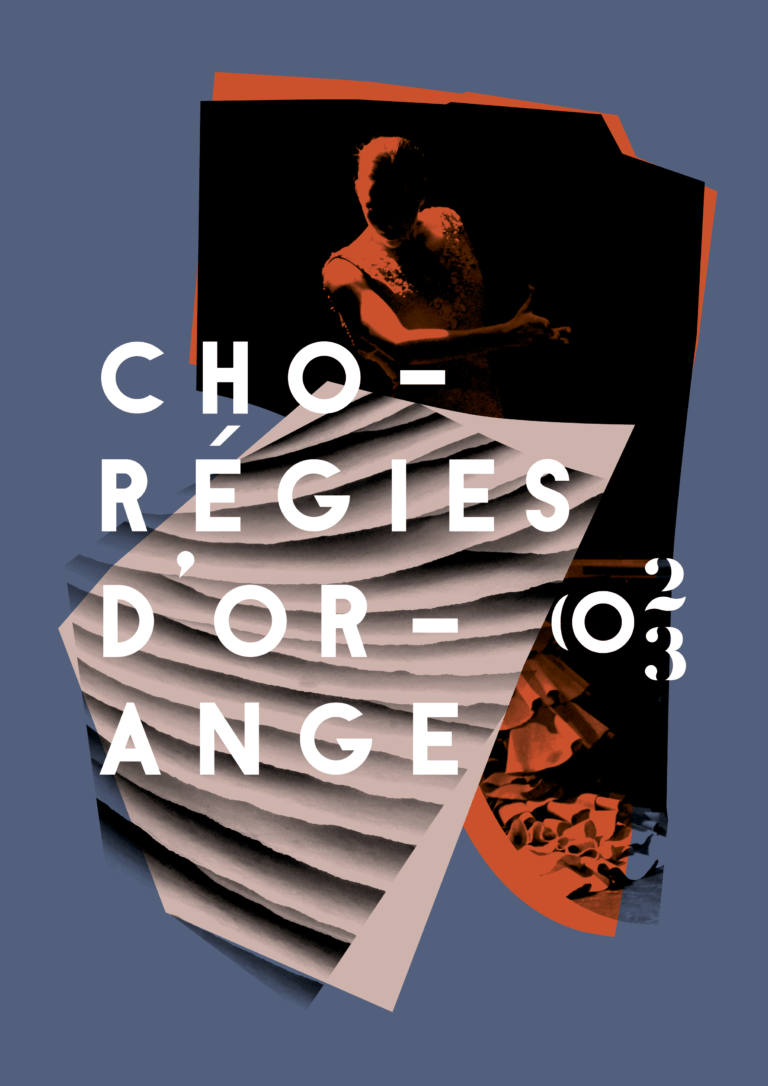 FROM MONDAY JUNE 19 TO MONDAY JULY 24, 2023
The Chorégies d'Orange is the oldest opera festival in the world (1869) and its undisputed reputation places it among the greatest international festivals. It takes place in the prestigious setting of the Théâtre Antique d'Orange, a UNESCO World Heritage Site.
This exceptional place, testimony of the Roman period, offers an incomparable acoustic thanks to a surprisingly preserved stage wall, unique in the western world, in front of which the most prestigious artists and conductors have performed.
Every summer, nearly 50,000 spectators come to share unforgettable moments of emotion and attend spectacular productions specially imagined and designed for the unique stage space of the Théâtre antique.
A festival in full metamorphosis, the Chorégies d'Orange is attentive to its audience with a new pricing policy and a new artistic policy based on a renewal of the operatic repertoire, the diversification of disciplines (annual programming of a ballet, family events), and the discovery of young international artists.
They also want to strengthen their social and educational actions, by giving a new dimension to the pedagogical project by creating a huge concert for young people, Pop the Opera, and workshops to discover the lyrical art for schoolchildren, extended from kindergarten to high school.
TUESDAY, JULY 25, 2023 - 8:00 PM
POSITIV PRODUCTION et la Ville d'Orange présentent STING au Théâtre antique d'Orange pour un concert spécial My Songs, le 25 juillet 2023.

Le concert My Songs de STING est un spectacle vibrant et dynamique mettant en scène ses chansons les plus populaires.
Acclamé par la critique lors de six soirées jouées à guichet fermés à Londres, STING proposera son My Songs show accompagné d'un ensemble de musiciens électroniques / rock.
Sa dernière venue au Théâtre antique date de 1980 avec le groupe The Police, le concert promet dont d'être épique !

CONCERT COMPLET !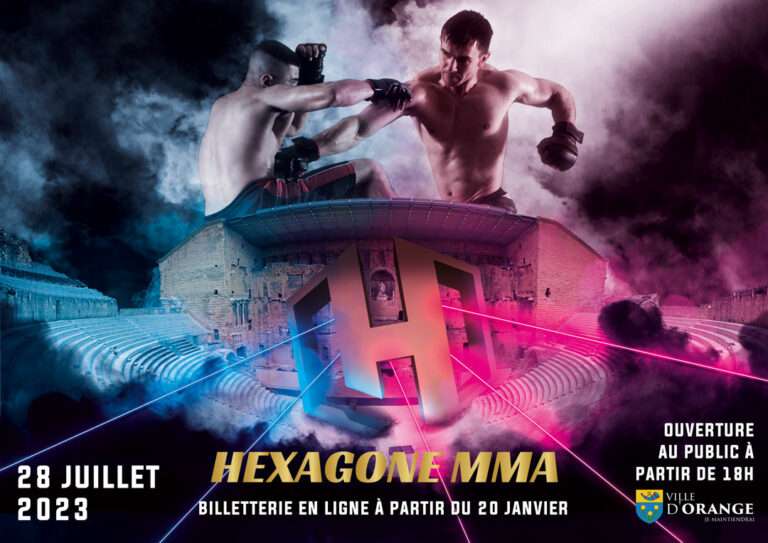 VENDREDI 28 JUILLET 2023 - 20h30
An MMA gala that already promises to be sensational. Today's fighters, true gladiators of modern times, will undoubtedly be galvanized by this ancient setting, which is finally obvious.
And while the featured bouts have yet to be announced, one thing remains certain: a world championship will headline the gala. This is one of the main commitments that HEXAGONE MMA has made since its creation in 2021. This is to put at stake, at each outing, at least one international belt. From this will, strong champions identified by the public have emerged, like the former judoka Laëtitia Blot, recently dethroned by Ernesta Kareckaite during HEXAGONE MMA 6. Everything is gathered to make the 28th of July an unforgettable evening.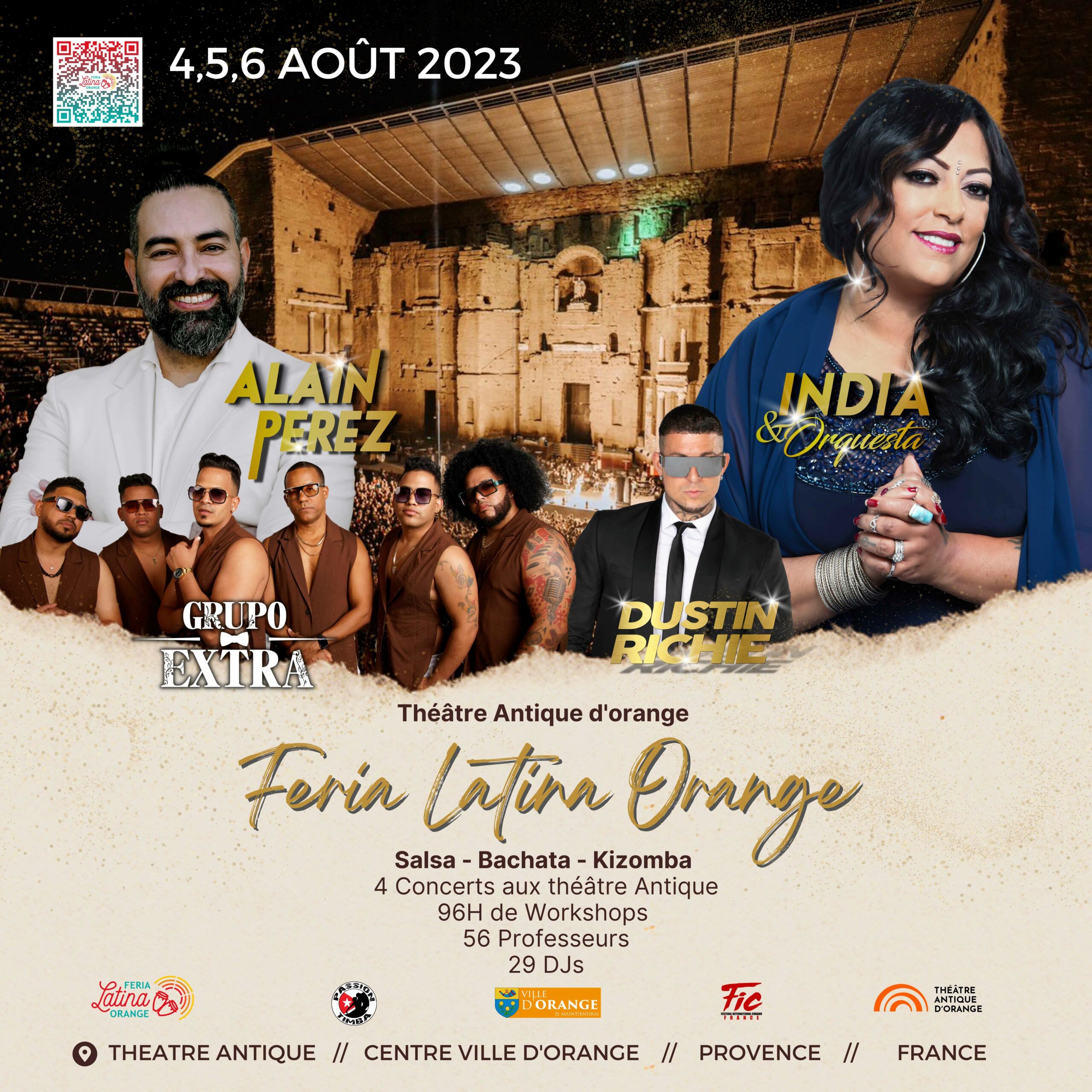 FRIDAY 4 & SATURDAY 5 AUGUST 2023
The Feria Latina of Orange welcomes you for its second edition this year.
It gathers high quality dance classes with the best teachers in the world of Cuban salsa, NY style, Manbo, sensual bachata, modern and Dominican, as well as kizomba.
Dancers from all over Europe will be able to meet from 5pm in the city center, which will be divided into 4 zones, to dance to the sounds of their favorite DJ.
There will also be two double concerts of bachata and salsa in the beautiful antique theater of Orange!
Finally, there will be an exceptional show of artists, some of them being multiple world champions in their category.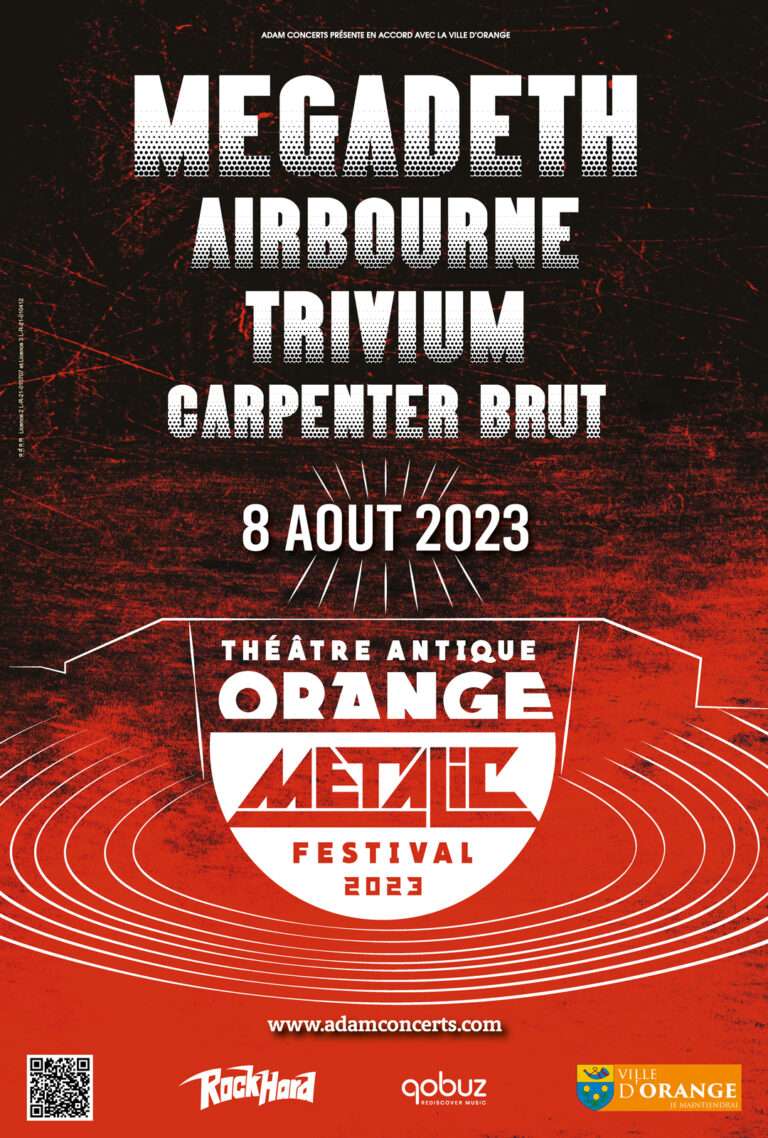 ORANGE METALIC FESTIVAL - 6:30PM
Always attentive to present an event with a "human dimension", the City of Orange and Adam Concerts announce today the second edition of theOrange Metalic Festival which will take place on Tuesday, August 8, 2023 with a bill worthy of the "Main Stages" of the main European festivals! MEGADETH, AIRBOURNE, TRIVIUM & CARPENTER BRUT represent four different, yet indisputably complementary trends: a line-up that will appeal to all hard rock and heavy metal fans!
The maximum capacity of 8,000 spectators in the ancient theater of Orange will allow fans to fully appreciate the performance of each group in an extraordinary setting. This year, even more than the previous one, from one performance to the next, the masterly scenographic coating will be enriched with images and sounds linked to the diversity of the repertoires of the four protagonists of this 2023 edition.
As promised, the City of Orange and Adam Concerts thus confirm their ambition to develop an event with more groups, while respecting the limits of reception related to this ancient framework. The quality of this 2023 program combined with the enhancement of the local and regional cultural heritage, demonstrates that the sustainability of the Orange Metalic Festival is obvious. The winning line-up that makes up this second bill will allow the event to be considered from now on as an unmissable summer event for metal fans.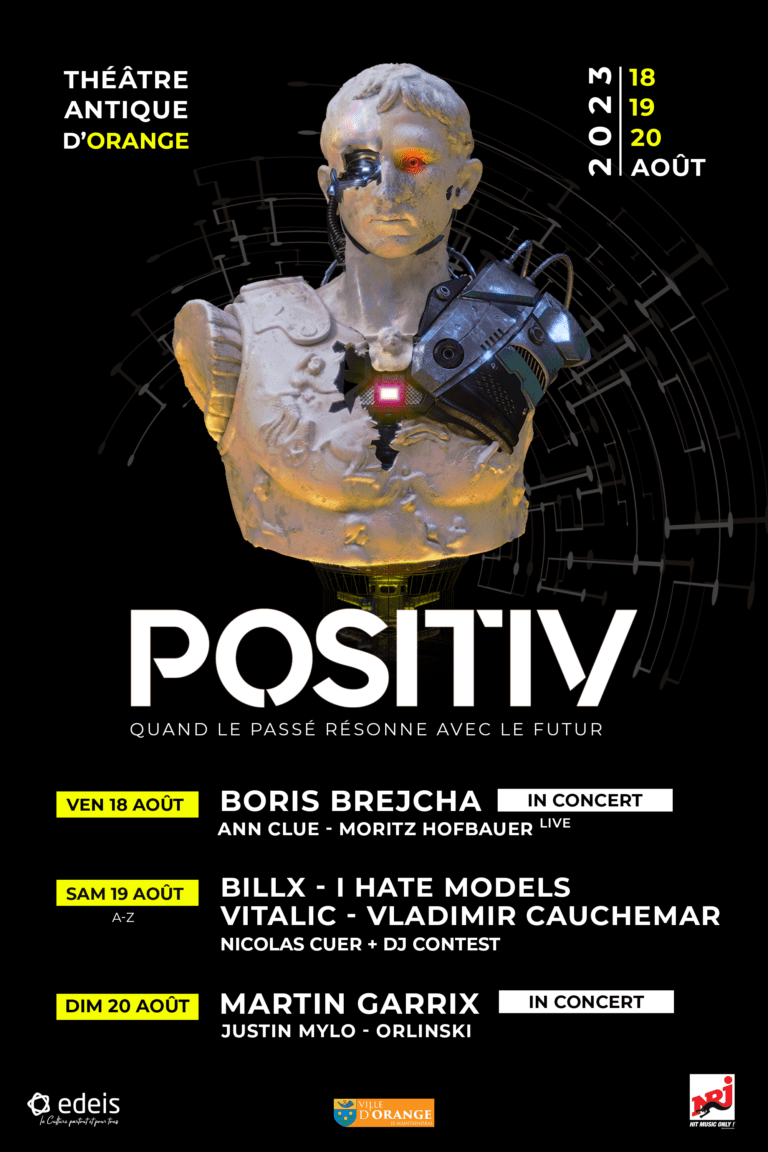 FRIDAY 18, SATURDAY 19 & SUNDAY 20 AUGUST 2023 - 6pm
The Positiv Festival 2023 is back with many new features to offer a unique experience to festival-goers.
First of all, the date has changed and the festival offers an extra day: the event will be held on August 18, 19 and 20, offering an extended weekend of celebration and electronic music.
The festival will be spread over 3 days, allowing fans to enjoy more DJs and incredible shows.
The Positiv Festival is proud to partner with Edeis to offer an exceptional visual spectacle. Thanks to the installation of video-projectors in the ancient Theatre of Orange, the festival-goers will be able to enjoy a videomapping show on the stage wall of the Theatre, thus creating a unique atmosphere for each performance.
Programming
Friday, August 18:
Boris Brejcha in a 3h concert show !
W/ Ann Clue - Moritz Hofbauer
Saturday, August 19:
Billx - I Hate Models - Vitalic - Vladimir Cauchemar - Nicolas Cuer
Sunday, August 20:
Martin Garrix in concert show !
W/ Justin Mylo - Richard Orlinski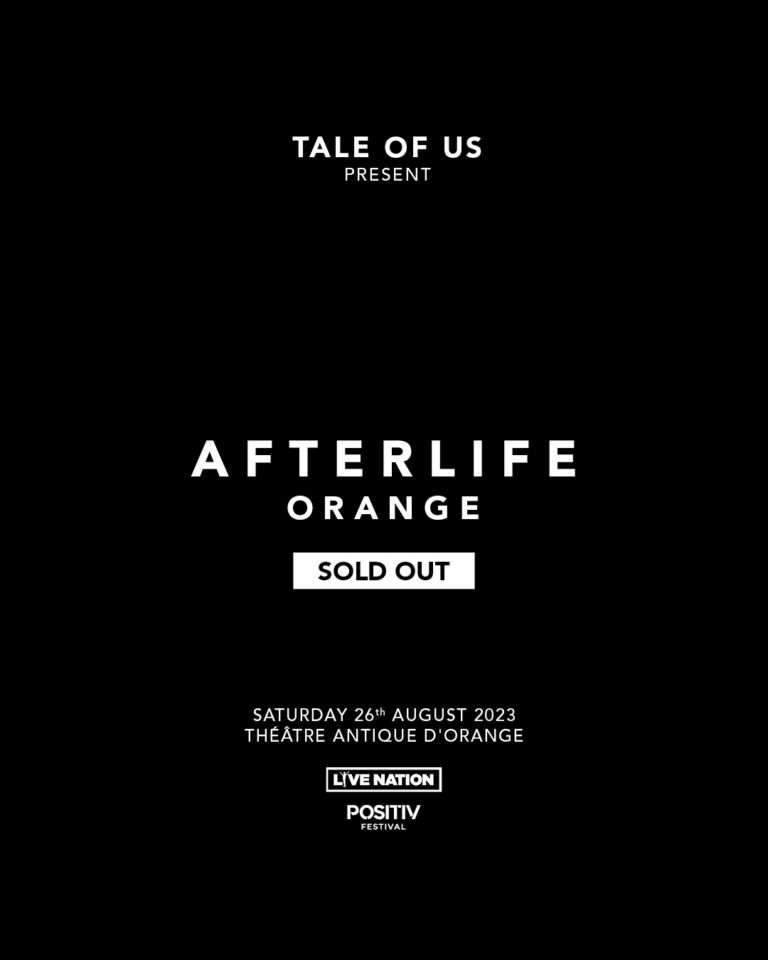 SATURDAY, AUGUST 26, 2023 - 6:00 PM
Afterlife returns for the third time in France by fascinating at the Théâtre antique d'Orange.
Once again, Tale Of Us will organize an impressive event, with its so particular scenography and will propose a remarkable line-up of Afterlife artists and guests.
You will discover a production with immersive visuals and avant-garde optical technologies, all designed specifically for a unique musical journey in this emblematic heritage of Imperial Rome, listed as a World Heritage Site by UNESCO.

CONCERT COMPLET !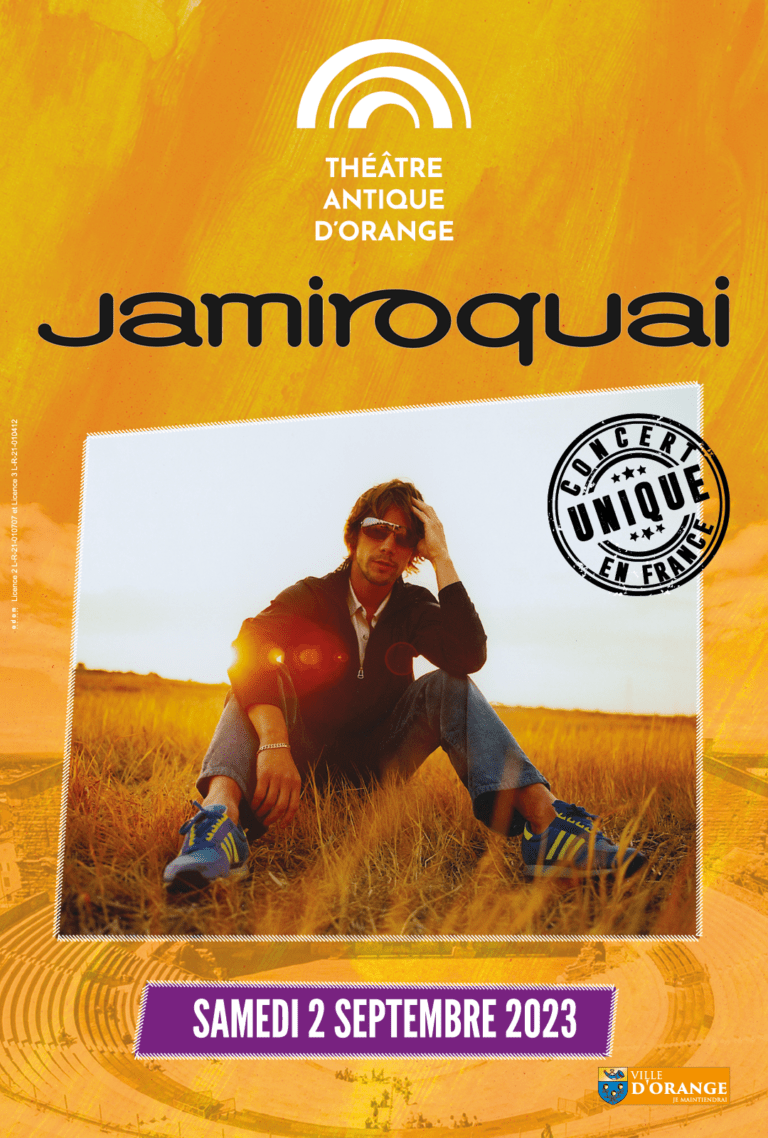 SATURDAY, SEPTEMBER 2ND, 2023 - 8:30 PM
A band called Jamiroquai arrived on Earth in the 90's, led by a young soulman rocked by jazz named Jay Kay. This was followed by a worldwide success with more than 27 million albums sold, Grammy Award nominations, multiple sold-out tours and more than 30 years of existence...
Over the years, Jamiroquai's music has remained true. Anchored as much in the past as in the present with groovy, electro-funk or even disco sounds.
Fans are now cheering their return, accompanied by a new generation conquered by this group called Jamiroquai. No rush, just good music to last a million years. And more.
Unique date in France!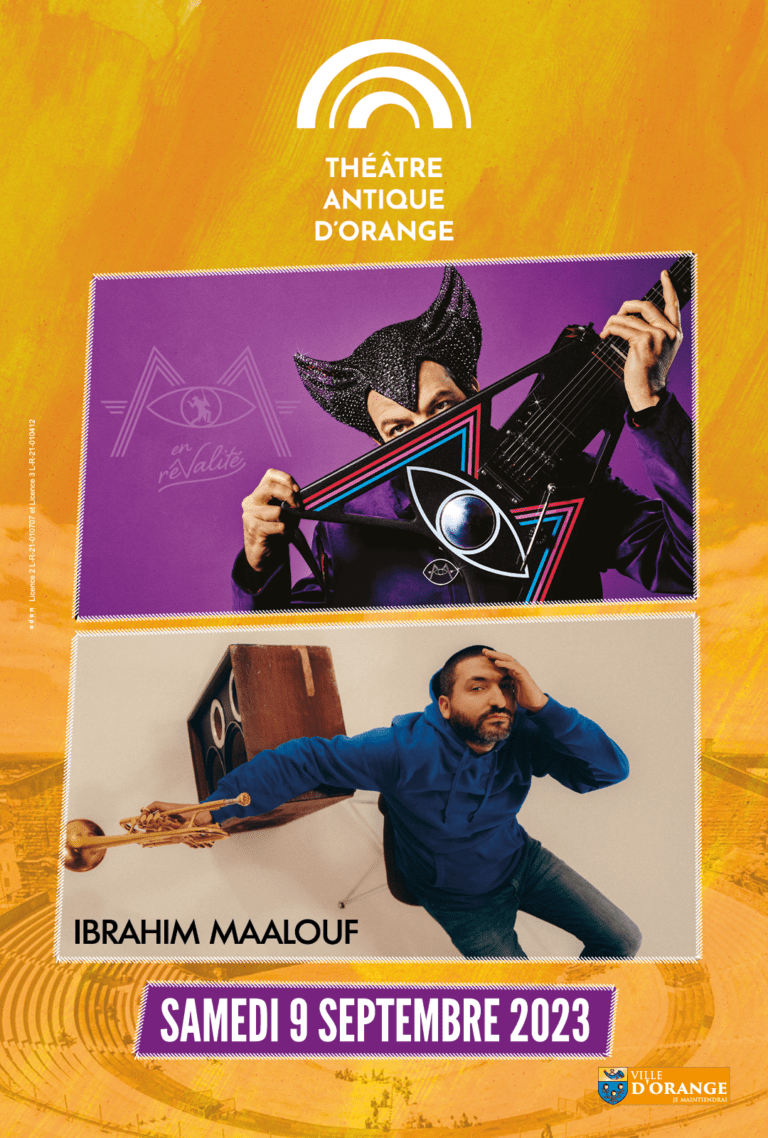 SATURDAY, SEPTEMBER 9, 2023 - 8:30 PM
-M- and IBRAHIM MAALOUF will be on stage at the Théâtre Antique d'Orange on Saturday, September 9, 2023!
-M- accompanied by his musicians GAIL ANN DORSEY, MAXIME GAROUTE, CORENTIN PUJOL, FAB 'CUB1' COLOMBANI and FEAL 'COOL' JAZZ will present their incredible show "En Révâlité".
Always surprising with his 17th album "Capacity to Love", IBRAHIM MAALOUF intends to mark the spirits. Both popular and original, surprising and innovative, his music produced between the United States and Europe is both urban and inspired by all the cultures in which Ibrahim has always been interested.