ADMIRE THIS GIANT
THAT TRANSCENDS TIME
"The finest wall in my kingdom" – Louis XIV.
The Roman Theatre of Orange is one of the most beautiful legacies of imperial Rome. An outstanding testimony to Antiquity inscribed on the UNESCO World Heritage List.
It has had an incredible history: it was a major performance venue demonstrating engineering know-how in Roman times, and it suffered from barbarian invasions in the 5th century when it was pillaged and burned.
During the religious wars, the population took refuge inside, houses were built there and it also became a defence post.
The people protected themselves behind this huge wall, inside which prison cells were even built during the revolution in the 18th century! After a long period of inactivity, in the 19th century major restoration work restored it to its original function: to present shows that are unique in the world!
From then on, the greatest artists gave their best performances on the famous theatre stage: Sarah Bernhardt, Barbara Hendrix, Placido Domingo, Roberto Alagna but also the group The Police, Johnny Hallyday, Hans Zimmer and David Guetta, much to the delight of music lovers all over the world..
Its history is discovered under the sun and continues to be written, even today, under the stars.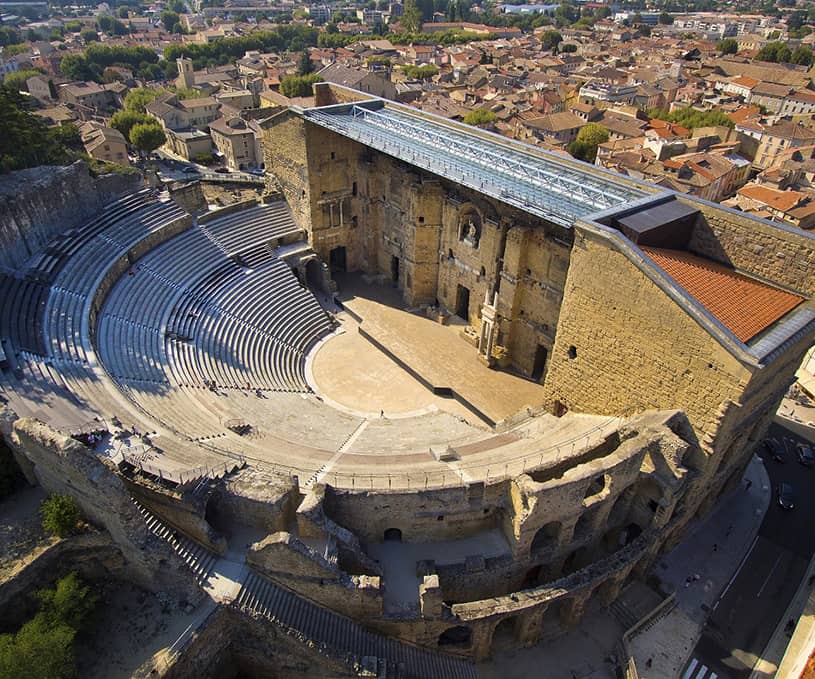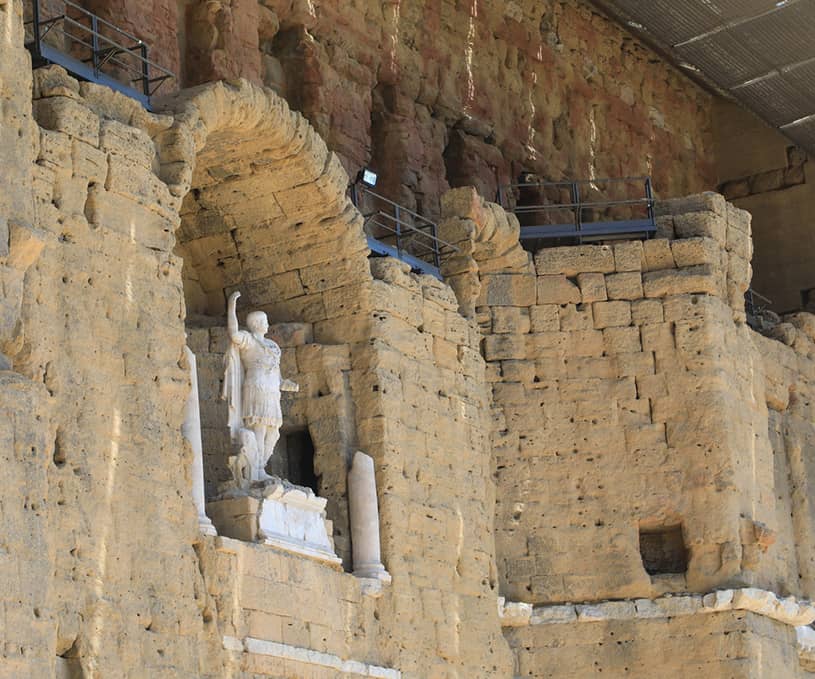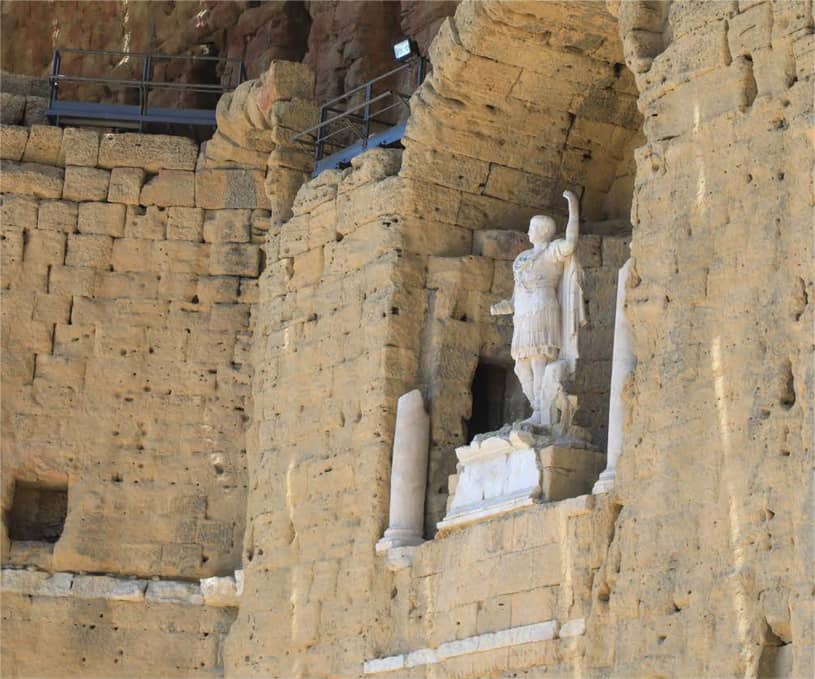 This building has been an astonishing architectural work for 2,000 years!
In the first century, Roman ingenuity made it possible to protect the spectators from extreme weather conditions thanks to the awning which was spread over the stands, the stage wall with its niches, decorations, columns and marbles as well as its roof made of wooden boxes which helped reflect the sound to the spectators.
Without any way of amplifying sound, the 10,000 spectators could hear the actors on stage perfectly!
The architects and physicists of Antiquity had only two tools at their disposal: geometry and the ear! The sharpness of their senses therefore went hand in hand with the sharpness of their minds.
Discover the materials to support your visit:
From Roman to modern genius
Come and stroll through four of the alcoves of the ancient theater to understand how the Roman genius was able to develop in a remarkable way and leave its mark on our modern culture and civilization.

Included in the visit of the Theatre, this didactic tour is accessible to children and adults, and translated into four languages (French, English, German and Spanish). Different themes are addressed:
- The theater and its characters;
- Education, School, Writing and Laws;
- Hydraulics;
- Food and entertainment.
Thanks to the virtual tour you can dive into the heart of the construction of the Roman Theatre of Orange under the reign of Augustus in the 1st century and discover its monumental decorations.

The virtual reconstitution of the ancient monument, offered as a complement to the visit, is part of an unprecedented approach: a journey into the past using innovative technology...

The virtual reality room will be closed all day on Saturday August 12.
With family or friends, the escape game offers a way to discover the Theatre and its history while solving puzzles and challenges.

Your mission: evade the curse of Teutobod!
In 105 BC, as the two tribes, the Cimbri and Teutoni, prepared to do battle with the armies of Rome, Teutobod invoked the power of dark forces, cursed the land of Orange and vowed to take no prisoners.
For Rome, the Battle of Arausio (Orange) was the greatest military defeat in its history, with 90,000 soldiers losing their lives.
The story does not end there, Orange went through many tragic ordeals and there is evidence to suggest that the source of the curse still lies under Saint Eutrope Hill.

In teams of 2 to 6 people.
Recommended minimum age: 10
Puzzles available in French and English